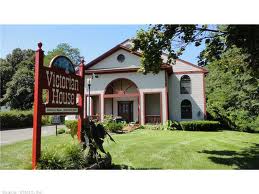 Follow the below directions until December 28, 2019 after which time  directions will be posted for the new location.
Since the majority of you use your GPS's, I won't give specific directions unless you request them.
My address is Victorian House, 24 West Road, (aka Rt. 83) Ellington, CT 06029, SUITE 52. The picture above is the landmark you will look for on West Road.
There are only 2 buildings in this complex. I am located in the 2nd, or back building. When you pull into the driveway off of West Road, go straight all the way to the back and you should end up directly in front of the only garage door in the complex. The door to my suite is two doors to the left of it with my suite number in plain sight. Parking: There are 2 parking spots directly in front of my office labeled 52. Please choose one of these 2 parking spots or any visitor spot which will be unnumbered. The suites in this building have assigned parking so please respect that and park ONLY in spots labeled 52 or those that are un-numbered.